As we near the end of 2020 this seems like a great time to bring you an update on our progress. It's been a thrilling year of intense activity. We've been working hard on adding features, testing, fixing bugs and improving performance in LCFM Native. There have literally been thousands of features, bug fixes and enhancements since the start of the year. We've spent nearly 20 developer man years in total on this project and we think you're going to like the results.
Claris Partnership
You may have noticed from Robert Holsey's announcement at Claris Engage, that we've also been working in direct partnership with Claris. We've been incorporating some of their technology into the product to improve compile times and we're testing using their ETS program. Everyone at Claris has been super helpful and I'd like to say a huge thank you to everyone there for their support!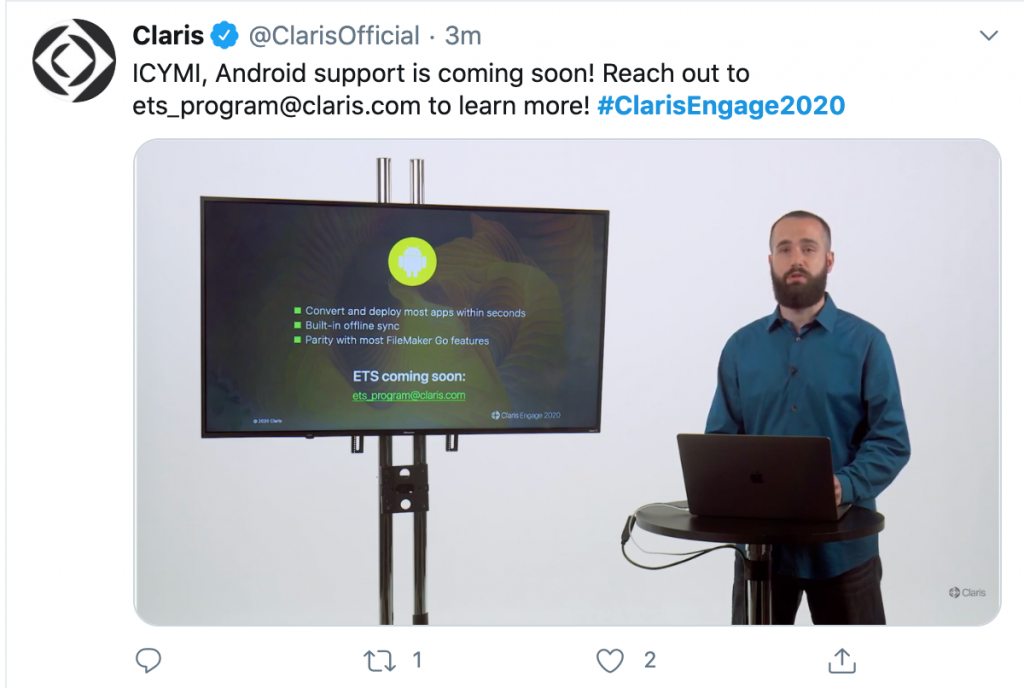 Robert Holsey announcing Android support at Claris Engage
Case Studies
The product is now becoming increasingly mature and I'm very excited to be able to say that we have quite a number of solutions either shipping or about to ship. Over the coming weeks we'll start to post some customer case studies so you can see some of the apps making it into the hands of customers and the Google Play store. Some of our customers are using FileMaker in entirely new ways as a result of LCFM Native and it's going to be great to be able to share their stories.
New Features and Optimization
If you haven't tested in a while, or at all, then the latest build is a huge step forward. We now support the vast majority of the FileMaker feature set. Portals, printing, native fields, relogin, perform script on server, insert from device and additional SQL query support have been added in the past few months. Online and offline sync is working well in complex solutions in the field, allowing you to deliver the user experience that your customers expect of today's apps. We've carefully prioritized features that are used more frequently or in a lot of solutions. There are no big features left to add. Any of the smaller features that aren't supported will be presented to you in a report at compile time so you can see exactly what isn't in yet and whether you can work around it quickly to get your app to store. We've done a fair bit of performance optimization to your apps too.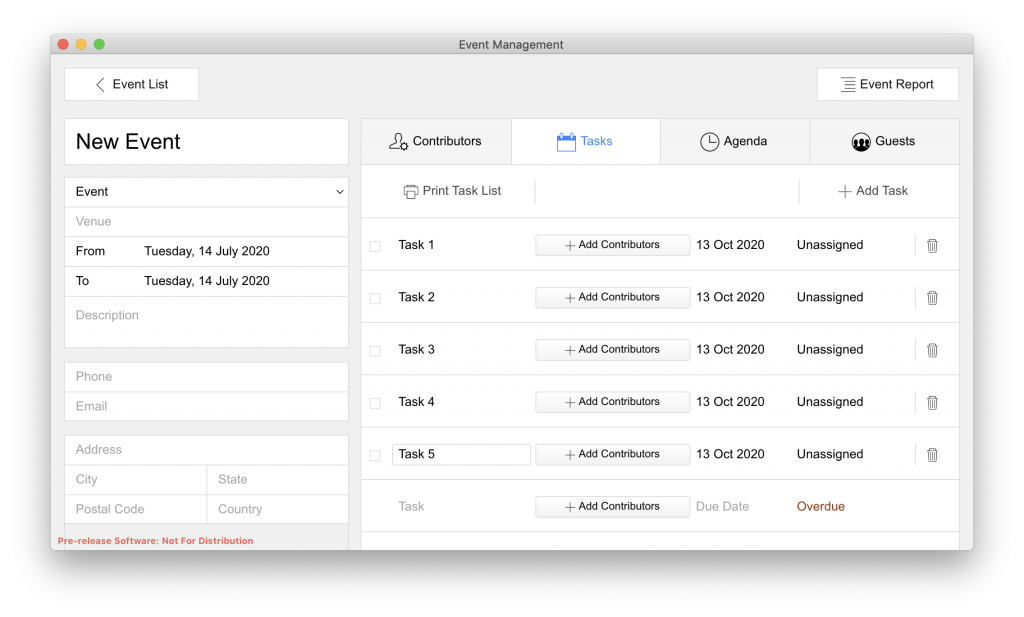 Portals displayed in a native Mac App
Fast Start
In addition to the improved feature support we've improved the experience of the LCFM Native tool itself. A friendly new "Fast start" mode has been added that no longer requires you to install the Android developer tools just to test on your own device. Compilation no longer takes over your computer and for smaller solutions can take about a minute.
Video showing Fast Start process with latest builds
Testing is currently free to join through the Claris ETS program. If you aren't already a part of this program, now is the last chance to help shape the release version. You can ask to sign up here.
Smoothing the Scrolling
In the coming weeks we'll be implementing a final round of graphic architecture changes to make the scrolling and display performance better on Android. This has been one of the most challenging aspects of this entire project, as Android devices use an entirely different hardware architecture to desktop or iOS and a completely different rendering model, requiring us to make some substantial changes under the hood to get more complex apps to display smoothly, particularly on entry-level devices. We'll also be implementing a handful more features that are in common use, optimizing performance in a few more common use cases, and fixing a number of bugs.
Aligning with Claris
This has been a truly huge engineering project, taking far longer and requiring more resources than originally anticipated. Everyone here at LiveCode is delighted that it is now, at last, entering the final stages! As we get to release we're going to be aligning our version numbering with Claris. This both reinforces our commitment to supporting all the latest features in FileMaker and makes the version numbering easier for you to follow. So we'll be launching as LCFM Native V19, to go with FileMaker 19.
Backing our backers
If you're an early backer or active tester then please know that we'll be communicating with you in the coming days with next steps to get your solution shipping. If there is still something that isn't working right we need to hear from you now. We're very keen to help you to ship and share your success story. We're hugely appreciative of all the support, it wouldn't have been possible without your patience and help.
The Future
I know 2020 has been a very challenging year for most of us. I hope that 2021 will be a better one as the world reopens further. Hopefully a mature, stable and performant LCFM Native will also help open up some new market opportunities for you as we go into the new year. In addition to opening up the Android market space for you (86% of the mobile market globally, including 53% of the high end market), we are also opening up access to the app stores. We look forward to working with you to expand the reach of your FileMaker apps. Watch this space for more news in the coming weeks.